Design of retail chains, design projecting of Hippo shopping mall
GIPPO retail chain – hypermarkets with a wide range of goods, supermarkets, cozy stores near the house. The vision of retail GIPPO is: «We are a Belarusian retail chain. We are working for to become the best national network – network number 1». Among the main values is a concern about the customer: «Every time a customer visits GIPPO, the customer feels at home because we care about him.»
We supported the these values in the retail visual identity (RVI) of the interiors of GIPPO stores. VDS developed, manufactured and installed elements of the navigation system and RVI structures for exterior (including exterior signs and facade solutions), as well interior of a number of objects of the GIPPO retail chain. Proper zoning of sales area is supported by bright navigation, clear to the buyer of any age. Elements of the navigation system are made in the corporate style of the GIPPO chain.
This GIPPO hypermarket with a sales area of more than 6,000 m2 has become the flagship of the new Diamond City shopping center. GIPPO at DiaMond city has three new zones – "Pizza, Sushi", "Bistro" with its own products and "Sweet Café" with a large assortment of pastries and sweets.
The GIPPO network for the first time introduced a new format of work and an improved approach to organizing trade. One of the tasks of the VDS project team was to equip the retail space and new zones with the relevant RVI structures.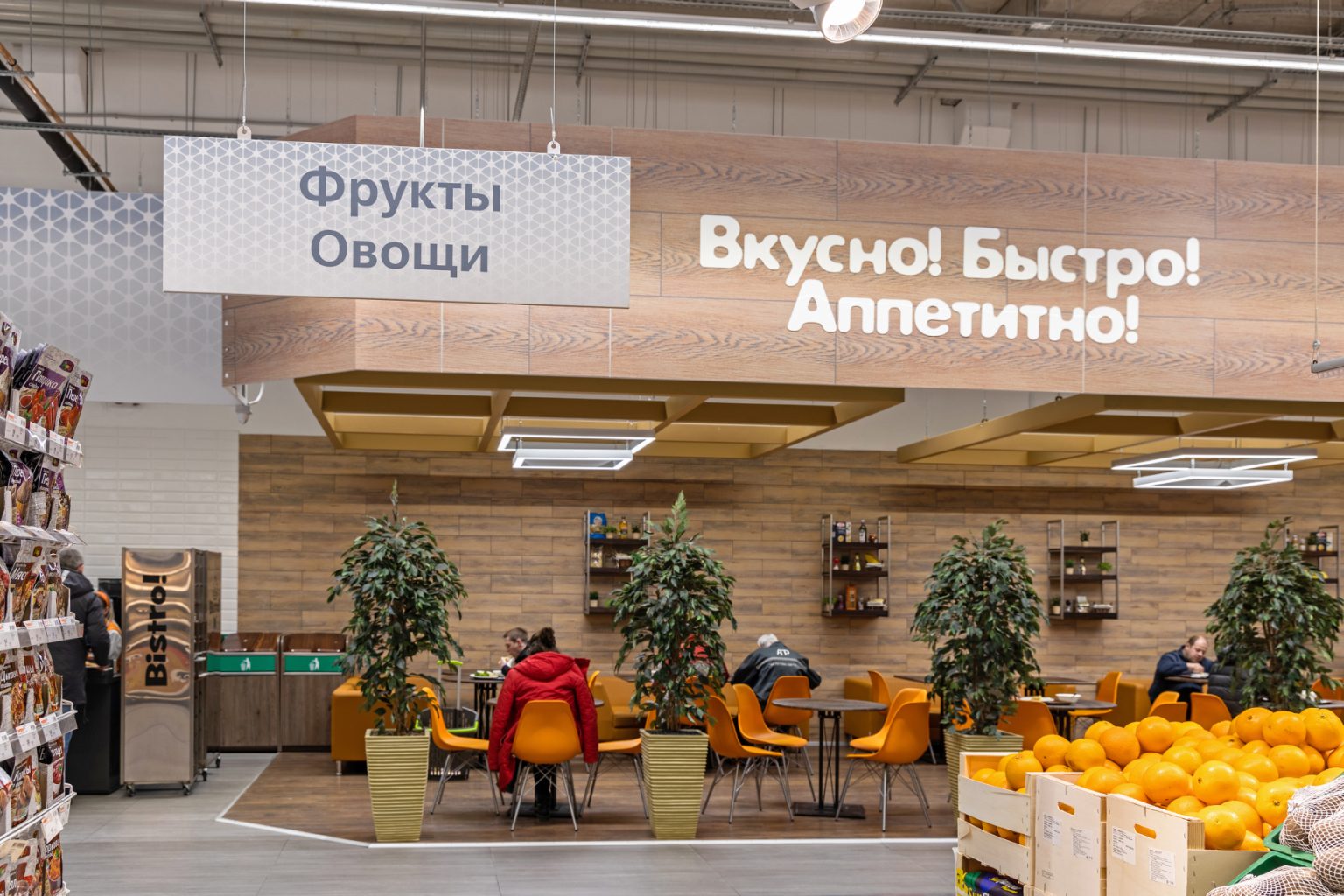 Warmly decorated Café with natural tones and woodgrain have turned it into an attractive cozy island where you want to linger. Signs system over the store departments, on the one hand, maintains the continuity of the integrated RVI across the entire GIPPO network, and on the other, it builds a new visual ergonomics of the retail space with additional zones appeared. At the same time, the priority is still to provide comfort and convenience for the buyer.