VDS Company Group Has Engineered and Produced Light Architecture for New Year in Moscow
VDS creative team has adapted the project of complex illumination of Moscow according to finished drawings on the basis of lighting architectural compositions and installations dedicated to the announcement of 2018 as the Year of Theatre in Russia. A total of 8 objects of lighting architecture were implemented, which were officially lit up on December 15, 2017.
Festive illumination in the shape of facades of theatres decorated the most popular places in Moscow.
During the cultural analysis stage, several directions were identified, each of which was associated with certain objects. In-depth analysis was performed in each of these directions with identification of the main and characteristic features and collection of equivalents
The structures have a temporary foundation that makes it possible to avoid using strains. The service life per year is 3 months of the winter season. The architectural systems have been successfully assembled and dismantled for 3 years due to long useful life of the structures.
Designer shape, execution and aesthetical properties of the foundation have become a part of the architectural design.
The metal structures are coated using hot dip galvanization method, which results in higher characteristics of corrosion resistance and resistance to aggressive environments. The structures will no longer need maintenance.
Interchangeability of Light Maps
A modular system of change of maps was designed for lighting architectures, which makes it possible to use the same tool to design large areas in a single style and create a stylistically uniform environment. The graphic part is replaceable. Development of the image is always individual and takes into account the style and heritage of the locality or city where the light compositions are to be installed. The system can be quickly and easily adapted to the specific design tasks.
The light architecture was implemented within the shortest terms possible – in 2.5 months instead of the standard time of 6 months typically required for such projects. By request of the customer, VDS is able to carry out proven process of assembly of light maps in the city of assembly in case of implementation of large volumes of decorations.
It is possible to switch off up to 70% of bulbs without changing the structure and decorations in order to create mood for every day; on weekends and holidays, the illumination can be fully switched on. In addition, the pattern and color can be changed for a specific holiday or season without changing the structural basis.
Illumination is ensured by light bulbs from the industry's leading Italian manufacturer in the field of illumination and decorative accessories.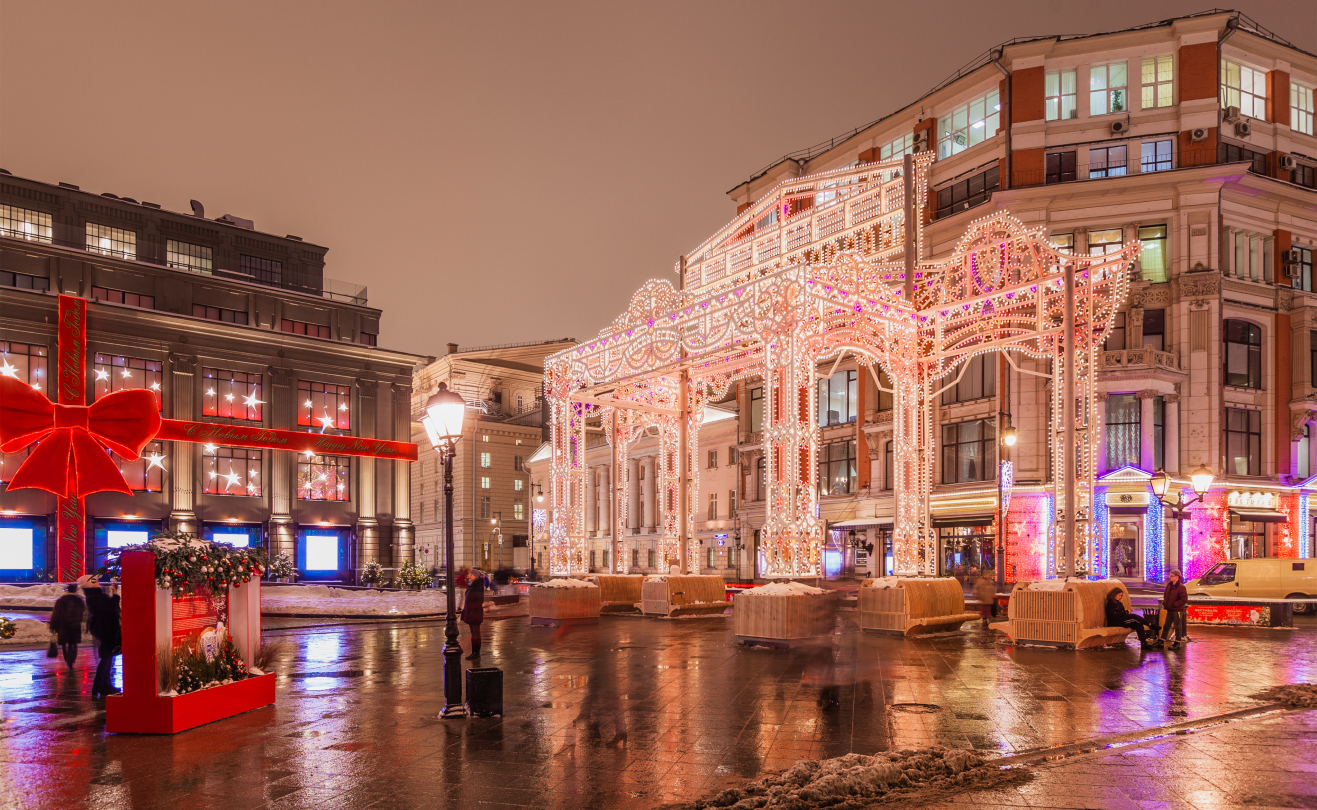 We have accumulated an elementary base of various structures, in the creation of which we provide for a factor of safety for multiple safe operations of assembly, installation and transportation. The structures are interchangeable. The frameworks are intended for many years of use.